Skip to Content
About Auto Glass On The Move, Inc.
We are a complete auto glass repair and replacement company. Providing FREE mobile service auto glass repair and replacement, windshield repair, or other services, to the Bay Area.
The Story Behind Our Auto Glass Repair & Windshield Replacement Facility
Auto Glass On The Move began as a privately owned and operated auto glass repair and replacement company in Oakland since 1979. Today our fleet of mobile repair units provides free, mobile service anywhere in Alameda and Contra Costa County. We are a preferred vendor for insurance companies, dealerships, and discriminating body shops. Whether you require a custom-cut piece of automotive safety glass or a simple windshield chip repair, no job is too big or too small. Our commitment to the highest quality customer service possible has earned us an A+ rating and placed us on the Honor Roll with the Better Business Bureau. All of our technicians are certified installers who will replace your auto glass to the manufacturer's specifications safely and efficiently. We are so confident in our abilities that we guarantee all of our auto glass replacement workmanship for the life of the vehicle.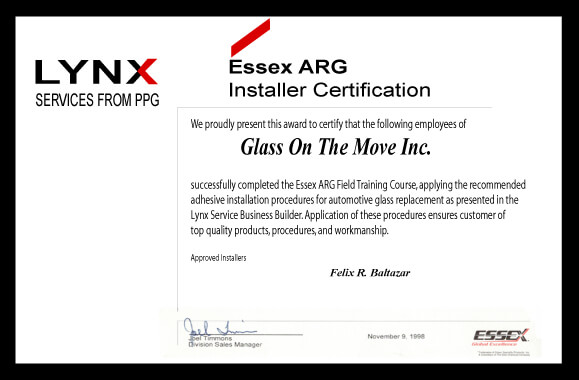 Our Certified Guarantee
Glass On The Move guarantees all glass is D.07 (Department of Transportation) approved. Meeting all OEM manufacturing requirements and must pass our strict standards of optical clarity. Glass On The Move guarantees all labor for as long as you own or lease your vehicle.
President GOTM
Understanding the Complexities of Today's Modern Automotive Glass
Having a full grasp of these complexities is imperative to a proper auto glass repair and replacement. Our ongoing training programs combined with hands-on experience keep us on the cutting edge of the industry. Auto Glass Repair and Windshield Replacement FacilityOur custom-glass department can cut and install glass for custom cars, construction equipment, and vehicles that require flat glass, even if they are no longer available in the marketplace. Auto Glass On The Move has always enjoyed high praise and an unparalleled reputation. Why? Because our philosophy is simple: "We provide our customers with quality products and impeccable customer service, guaranteed".